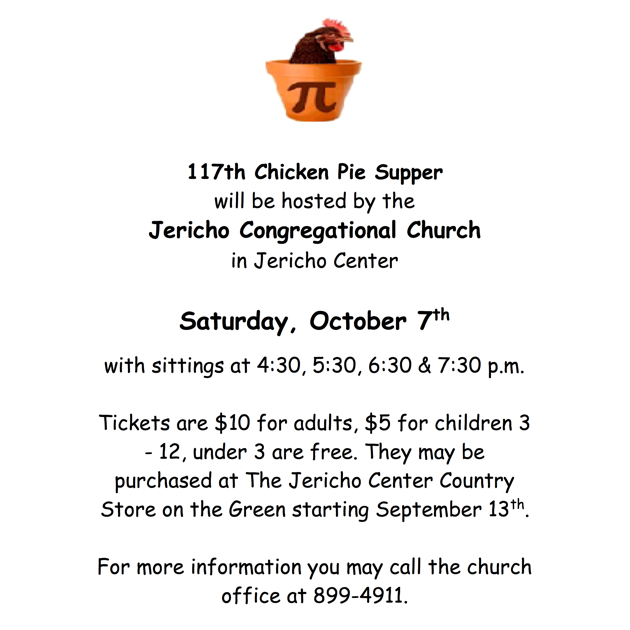 Official Chicken Pie Recipe
2 Chickens per pie (each chicken weighing 7 to 8 pounds)
24 Biscuits per pie This recipe makes a pie with 24 biscuits. If you make a practice run for your own family, be sure to cut in half
To Prepare Chickens: (Can be done the day before as long as the broth and the chicken are kept refrigerated.)
Wash and clean chickens – remove excess fat and pin feathers.
Boil clean chickens in enough water to cover them, until meat falls from bone.
Giblets can be boiled along with chickens. When cool enough to handle, remove chicken from bone and cut chicken into bite-size pieces. Dispose of bones, skin and giblets. Refrigerate chicken and also the broth that the chicken was boiled in.
Gravy: Remove fat from the top of cold chicken broth with spoon, and dispose of fat. Heat broth 'til lukewarm over medium heat. To make gravy, place flour with cold water or cold broth (about 4 to 5 tablespoons of flour to 1 cup of liquid), in jar with lid, or gravy shaker (shake well to be sure all flour is dissolved in liquid before adding to broth). Add to chicken broth. Bring to a boil, stirring constantly with a wire whisk to prevent lumping.
Grease a 10″ X 16″ X 2 1/2″ pan. Arrange chicken evenly in bottom of pan. Pour enough gravy to just cover chicken. If gravy comes too high above chicken, biscuits will be soggy. Put pan with chicken & gravy into a 425o oven while preparing biscuits. (Having oven-hot chicken and gravy prevents the biscuits from being gooey on the bottom).
Biscuits
Commercial (Original Recipe) Bisquick is preferred using directions on the box.
Or if you make biscuits often with success, use your own recipe.
Cut out biscuits and put aside until all 24 are cut out. (Do not prebake)
Remove chicken from oven – gravy should be boiling, and immediately put the biscuits on top of the boiling gravy and chicken. Bake at 425o for about 20 – 25 minutes, or until biscuits are done and lightly browned. To check biscuits for doneness carefully lift one in center of pie and test with finger. If biscuits seem to be browning too quickly, and not getting done, reduce heat to 400.
Save (and bring to church when making for the annual supper) remainder of gravy to put over chicken pie when served.